There are a lot of important things to consider when you're trying to sell your home. In the midst of trying to make everything inside look great so you can get your house on the market, don't forget about curb appeal. It's the overall attractiveness of your home when a buyer pulls up to the curb, and it can be critical to how fast you make a sale and whether you can get your asking price.
The physical exterior, the façade, the landscaping, and all those outdoor things you might not really think about all matter. Consider then carefully if you want to make a quick, fair sale and move on. Fortunately, we can help you with everything you need to know about curb appeal. The tips to use curb appeal properly are right here, and you can have peace of mind when you know your home has what it takes to interest buyers.
So, Why Does Curb Appeal Matter So Much, Anyway?
Potential buyers want to see that a home has been cared for well. If your lawn is manicured and your home looks fresh and clean, it's an indication that you've taken pride in the property. That pride has probably led you to maintain the property the right way, and buyers can feel safe when they purchase your home.
Most buyers look online first, and if the pictures of your home's exterior don't show an attractive house the buyers wouldn't be interested in, they probably won't come see the house at all. You could easily lose out on potential sales if your curb appeal isn't up to par. Even if the interior of your home shows beautifully, buyers will need to come inside to notice that. You have to get them in the door, and that's not easy without good curb appeal.
Here are nine tips you can use to make sure your curb appeal is the best it can be, so you have the chance to sell your home for more.
1. Make Your Walkway Welcoming
Potential buyers who are walking up to your home are taking in everything as they approach your front door. The more welcoming and beautiful your walkway is, the more buyers will like it. Having a straight path from the stress to the door is often the best choice, but it's not always an option. No matter the style, shape, or size of your walkway, though, add plants, flower beds, rocks, or something else along the way, to make the trip from driveway to doorway more interesting.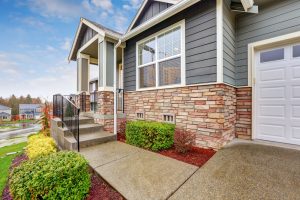 If you don't already have a poured concrete walkway — or any walkway at all — you can make one from wood that will be beautiful and unique. Cypress, redwood, teak, and cedar are all great options. They're easy to work with and they're weather-resistant. You'll want stone or pea gravel for a base and staining and sealing the walkway once a year will keep it looking lovely and fresh. No matter what kind of walkway you have, though, keep it simple and elegant and avoid overgrowth, weeds, and related problems that can make the walkway look messy.
2. Your Front Door is Really Important
You'll want to choose a pretty color to paint your front door, but you also want to pick one that matches the exterior and the overall style of your home. You'll be adding curb appeal while also getting something you enjoy. If you choose a contrasting color, make sure it doesn't clash with the color of your home or porch, or even with the shutters or the plants you have nearby. A white or gray house with a red door, for example, can give you a really good look where nothing clashes but your door still stands out.
While you're painting the front door, take a look at the hinges and the handle. If they aren't in good shape and can't be polished up, consider replacing them. Then head around to the back door and do the same thing. If your door has a screen door attached, that may also need to be repaired or replaced in order to help your curb appeal. You don't want anything obviously damaged or falling apart when buyers are coming to see your home. Most of the fixes are easy ones, and you can make them without a lot of trouble.
3. Yes, Mowing Your Lawn Can Affect the Value
You might not think too much about whether your lawn has to be mowed and manicured. After all, it's the house the buyers are looking at, right? Well, yes and no. They're looking at the big picture, and when that picture contains a lawn in bad shape it can seem like you're not taking good care of the overall house, either. You can avoid those concerns on the buyer's part by making sure you keep up with your lawn and have it looking neat and tidy all the time.
Don't just mow your lawn and call it a day, either. Make sure you edge the driveway and curb areas, and that you get weeds and dead spots in the yard taken care of. Buyers who see a lawn that looks like a problem can really be turned off when considering whether to purchase your house. You don't want to give a potential buyer anything at all to worry about. If you have a lot of lawn ornaments, consider putting some of them away, as well. They're cute, but they might not be something a buyer likes. Better to reduce the number of them and keep things more minimal to attract a higher number of buyers.
4. The Backyard Counts for Curb Appeal, Too
While it's true that buyers won't really see the backyard from the curb, and they'll already have a strong opinion of your house by the time they get to the backyard, you still want all your outdoor space to look as good as possible. Buyers see backyards as places to relax, play with children, have parties, enjoy quiet times, and much more. Because of that, you don't want to disappoint them with a bad backyard even if the rest of your house is really great.
If you have anything in your backyard, like a pool or hot tub, make sure it's clean and looking good. You don't want a pool full of leaves or a hot tub where the water's green to turn off a buyer that would otherwise be really interested in your house. You might want to plant some flowers, too, and scrub down that patio set. But you don't need to go overboard. Keeping things simple is generally the best way, because it appeals to more buyers than a unique, detailed yard that won't be right for the majority of people.
5. Make Sure Curb Appeal is Also Drive-By Appeal
Buyers are going to drive by your home, or park out front, and take a look. They might not have even talked to a real estate agent when they do this, but you want to make sure they like what they see. Keep your doors and windows clean and in good shape, and give your garage a touch-up if it's starting to look old or weathered. Minor details are really going to matter, so you want to be sure you've cleaned everything up, painted your front door, and mowed your lawn before you ever put your house on the market. As soon as the listing goes up, you could have people coming by to take a look.
After your house is listed, you'll have to keep up with the lawn and the house maintenance more diligently than you might have otherwise. Trimming and pruning trees, washing windows, removing dead flowers, and keeping your grass cut will all have to be done. It's tempting to skimp on these things when you're tired, but don't let yourself get lax. It could make the difference in getting an offer on your property or having it sit on the market longer.
6. Make Sure You Include Your Roof in the Curb Appeal Process
Have a professional came and take a look at your roof, to see what kinds of problems you might have. If the roof is in need of repair, your buyers are going to find that out during the inspection. Rather than give them that chance, get things fixed before a buyer ever takes a careful look at the house. You can always sell your house as-is, or as a "fixer," but you aren't going to get as much for it when you sell it that way. Instead, fix the issues it has — including any with the roof — and you'll be much better off when working with a buyer who's going to be looking for a good deal and a fair price for a quality house.
7. There are Some Important — and Inexpensive — Repairs You Should Make
As you're making your home look better, you'll want to be sure you don't forget the little things. Details really do matter. For example, polish the hardware on the doors, and make sure the door tops and the hinges are clean and not dusty. Doors shouldn't stick or squeak, either. A buyer won't necessarily be looking for these things, but they will definitely notice them. Also consider getting a welcome mat for the front door, and replacing any light fixtures that are old, damaged, or outdated. That includes outside lights, not just the ones in the interior of your home.
8. What You Shouldn't Do When Creating Curb Appeal
A lot of sellers try to do everything they need to do to get their house on the market within just a few days. While that can work for some things, repainting a house should be done several months before a house goes up for sale. It will look like the paint has been treated well over the years, but it won't look like it was just painted. A freshly painted house could be suspicious to a potential buyer, as they might think that it's covering up something that was just recently fixed — or something the seller is trying to hide or distract from.
Also, don't ignore the value of both hard and soft levels of landscaping. Everything from the flower beds to the driveway have to look good, clean, and well-kept. Too many sellers ignore things like power-washing the driveway, and think that planting flowers is enough. Fall is a good time to paint and do all the other work that's needed around the outside of the house. That includes good pool or hot tub maintenance, too.
9. Use Curb Appeal Wisely, So Your Home Sells for More
Selling your home is a big step, so you don't want to skimp on the small details that could really make a difference for your curb appeal. You can get a faster sale and a better closing price, in most cases, by making sure your curb appeal and exterior home appearance is good in the eyes of buyers. Then a potential buyer will fall in love with your home, buy it, and love it for a long time. You'll be on your way to your next adventure, knowing you got a good price for the home you sold and didn't have to wait long to get to the closing table. It's a winning situation for everyone involved.