The perfect place to look for 19th century homes for sale in Fort Collins is Old Town. Here's why. Old Town is Fort Collins' historic downtown, dating back to 1864 when a military reservation was built in the area. The birthplace of the city of Fort Collins, the district has retained much of its old-world flavor, boasting 28 historical buildings and the only original trolley car that still exists west of the Mississippi. Walking around Old Town, you might get the feeling that you've been here before. This is because the place was the model for Disneyland's Main Street USA, which was designed by Fort Collins native Harper Goff. To this day, there's a storybook feel to this charming downtown, with its collection of turn-of-the-century bungalows, charming boutiques and retail stores, cafes, antique shops, and candy stores. Old Town is a haven for pedestrians and bikers. You'll find practically everything you need within walking or biking distance. These include over 84 restaurants – many of which have patio seating – serving a wide variety of cuisines. Old Town is also a vibrant nightlife destination, boasting quite a few bars and most of Fort Collins' famous microbreweries. The city is known as the Napa Valley of beer – it's home to the most microbreweries per capita in Colorado, and supplies around 70% of the state's craft beer. And to add to the festive ambiance, there's almost always live music courtesy of bands and artists performing at the square.
Sorry we are experiencing system issues. Please try again.
Homes for sale in Old Town Fort Collins.
Many of the Homes for sale in Old Town Fort Collins are superbly restored 19th-century properties, including three-story homes with living spaces of around 4,000 square feet, and charming early 20th century bungalows with updated features and amenities. Brownstones – which have become the general term for row houses, whether vintage or newly-built – are gaining popularity in the area. The new brownstone developments in Old Town – Fort Collins features high-end units, including a few seven-figure ones. Condos are also popular in the area, and many of the original bungalows here have given way to newer multifamily developments. New loft condos and apartments are also getting plenty of attention, giving homebuyers in the area a distinctly urban choice.
Choosing to Buy a Home in Old Town Fort Collins – Schools
The schools in Fort Collins are among the reasons families choose to move here. Old Town is served by the Poudre R-1 School District. Some of the top-rated schools in the area are:
Laurel Elementary School
Lesher Middle School
Ft. Collins High School
Old Town Fort Collins is also home to Colorado State University, as well as Front Range Community College.
Old Town Fort Collins – Attractions and amenities
You will never run out of things to see and do in this neighborhood. Visiting the area's historical sites and buildings, whether on foot, by bike, or in a fun and exciting ghost tour are a 'must'. Some of the places to see are:
The Fort Collins Armory – now a music venue
The McHugh-Andrew House – also known as the Mayor's house
The Miller Block
Old Firehouse Books
The Fort Collins Museum of Art
Taking the Birney Car Trolley, which features original Fort Collins Municipal Railway streetcars
Joining a brewery tour and taking part in the annual Colorado's Brewers' Festival to sample the offerings of the community's top microbreweries
Watching a live musical performance at Old Town Square
Enjoying endless outdoor fun at one of the area's 6 community parks and 42 neighborhood parks.
Bringing your kids to the Fort Collins Museum of Discovery for an enjoyable encounter with science, technology, and culture.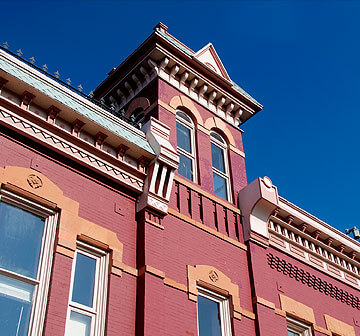 History
Old Town is a beautifully preserved downtown area that includes many historic structures. Among them is the recently restored art deco Armstrong Hotel. Over 80 restaurants are located within the Old Town area. A trolley still runs through the Old Town neighborhood. The picturesque area was the inspiration behind Disneyland's "Main Street USA." Camp Collins was named after Lt. Col. William O. Collins. It began as a military reservation in 1864 with 22 structures in the compound. Within a couple of years, threats to stagecoach traffic were much reduced, and Pres. Andrew Johnson ordered the facility abandoned in 1867. Soon thereafter, the old fort was a focal point of a newly platted area called "Old Town." In 1873, an adjacent area was platted that was called "New Town."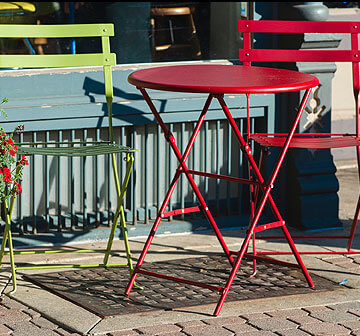 A Reason to Buy A Home in Old Town Fort Collins – Parks and Recreation
Those living in Old Town homes enjoy access to six community parks and 42 neighborhood parks in the city of Fort Collins. About 875 acres of land are devoted to
dozens of facilities
. Hikers, bikers, skateboarders and others enjoy over 35 miles of trails in Fort Collins.
Old Town Fort Collins – Attractions and Activities
Those that invest in Old Town real estate can take their kids to the Fort
Collins Museum of Discovery
. Interactive experiences in science, technology and culture enrich the lives of participants. Regional exhibitions and the observation deck are also popular at this new facility that opened in 2012. The Digital Dome theater is an attractive venue for films, seminars and other presentations.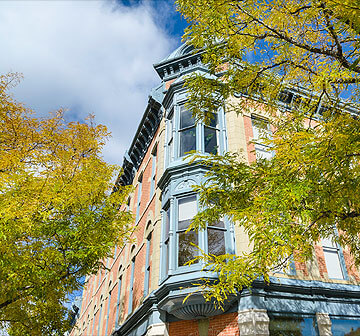 Old Town Fort Collins – Events
The
Colorado Brewers' Festival
comes to downtown Fort Collins at the end of June every year. The grounds cover over seven acres. Colorado bands perform in the "Base Camp" entertainment area. A new wilderness activity area features rock climbing, zip lining, mechanical bull riding and bungee trampoline jumping. Speak with brewmasters in "The Summit" specialty beer spot, and attend the beer school if you wish. Throughout the summer, the
Thursday Night Live Series
presents live music in the Old Town Square. This free concert series runs from June to August. A prospective Old Town home buyer will find an interesting selection of Old Town CO real estate to consider. Old Town CO homes may include three-story, 19th century homes for sale with six or more bedrooms and more than 4,000 sq-ft of living space. A knowledgeable Old Town real estate agent can also show you quaint bungalows that have been lovingly restored. Your Old Town realtor can assist in identifying the Old Town homes for sale that will best address your important needs. Many Old Town properties have been meticulously restored and updated. This real estate in Old Town offers residents great access to all that downtown Fort Collins has to offer. If you want to explore the diverse real estate opportunities in the Old Town – Fort Collins area, we at Kittle Real Estate are your best guides to find homes for sale in Old Town Fort Collins. Message us here or call 970-460-4444 or 970-690-4920. You can also send us an email at
Website@KittleTeam.com
. Best Realtor in Northern Colorado!