Ready to stage your home? Convinced that it's worth it? That's great news. But of course, you're probably still wondering about the costs of home staging and whether you can really afford to stage your home the right way to bring in quality buyers. It's hard to give you a specific answer on the cost, because your market, location, and size of home will matter. Additionally, how much work your home is going to need will also affect the total cost you'll pay to stage it.
If possible, you should work with a professional stager and your real estate agent to get things the way a buyer will respond to. If you can't hire a professional, though, there are still ways you can stage your home for less. According to the NAR, the average staging cost for a seller is $675. That's not a small amount, but it's an amount most people can handle. Where to put that money and what should be focused on the most are the questions you'll want to ask and have answered, before you start the staging process. There are both internal and external staging options to consider.
Internal Staging for a Welcoming Feel
When you focus on internal staging, you can quickly spend a lot of money. That's because you might be going for a "model home" sort of look that's finished and polished. If you're creative about it, though, it can be done on a budget and still look great. Spend your time and energy on the things that are going to matter the most, and the rooms that are the most important to a buyer. Make sure you stage the living room. After all, you can get a can of paint for $30 and buy some plants. Rearranging the furniture and removing any clutter can also make a big difference.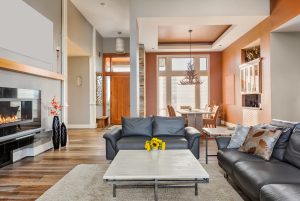 How the buyer sees themselves in the main gathering space of the home is extremely important. You want the buyer to like the space and feel good in it. If you can create that for them, you'll be able to get a bigger return on your investment. Bathrooms and kitchens also sell homes, so make sure you focus your attention there. Some new fixtures and paint can really improve things and make a buyer feel welcome and comfortable in the space. The NAR study reinforced the value of updating the kitchen and the bathrooms.
Almost any surface is paintable with the right type of paint and preparation. You should also consider new cabinet hardware, towels, and simple items that can be combined for a cost of around $100 or less. That way you'll make the home look fresher and cleaner, but you won't have spent a lot. That fresh, clean look can be added to with new lighting, as well. Create an atmosphere that's warm and inviting, and make sure all the bulbs in your light fixtures are working. For around $20 you can make a difference. You don't need to buy expensive LED bulbs to improve the way your lighting looks.
External Staging and Curb Appeal
Curb appeal matters, since it's the first impression a buyer has when they pull into the driveway. As a seller, you can expect to spend at least $100 to make the outside of your house look better to buyers. Painting your doors often changes the look of your house, and it doesn't cost much to keep the grass cut neatly, clear the weeds out of the flower beds, and pick up any toys or clutter in the yard. Good curb appeal can go a long way toward giving buyers a favorable impression of your home overall.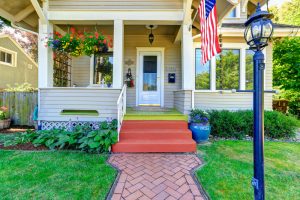 Neutralize and Depersonalize Inside and Out
You'll want to declutter the space, but you also want to make sure you're taking away the right things. If it's personal to you, it shouldn't be in the space. That includes pictures, religious symbols, political statements, and more. The more neutral the space appears, the more a buyer can see themselves living there.
Make that neutralization your focus, and you won't need to spend a lot to make a big difference in the way buyers will see your home. Store your personal belongings off-site somewhere, so buyers feel like the space could be theirs. It's a great way to get buyers interested in making your home their new place.